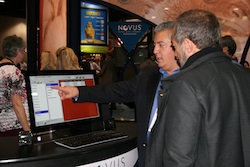 No one can argue that technology makes things easier and for poultry veterinarians and nutritionists, Novus International has a new app, called One Goal, to do just that.
At last week's International Production & Processing Expo, Dr. Marco Quiroz, poultry veterinarian for Novus, shared how the app can revolutionize how information is gathered in the field allowing vets and nutritionists to establish and monitor preventive medicine and nutritional programs for their clients.
This app for mobile devices is a portable and convenient health assessment tool. It creates a database for the clinical history of a poultry company and can be used in every field visit to monitor bird health. The One Goal platform is currently running in the United States, but spreading worldwide.
Marco was on hand during the expo to answer questions and give personal demos for attendees. In the following interview he shared how this new technology can save vets time and energy and responses from those who already have it in their hand.
Check out my complete interview with Marco: Interview with Marco Quiroz
You can find photos from the event here:International Production & Processing Expo Photo Album