Our latest ZimmPoll asked the question, "What do you think is top story of 2012?"
Our poll results: It looks like the majority of you at fifty-seven percent felt like "The Drought" was the top story for 2012. "No Farm Bill" came in at fourteen percent and ten percent said "USDA Meatless Monday Uproar".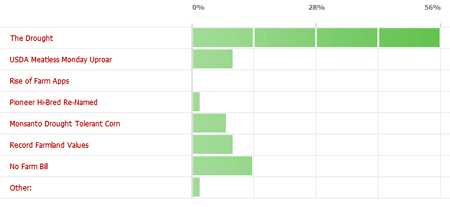 Our new ZimmPoll is now live and asks the question, "Should we sit down with HSUS in "common cause?" Secretary of Agriculture Tom Vilsack's comments at the AFBF annual meeting this week about sitting down in common cause have attracted a number of comments here and on social networks. So we thought this week's poll might produce some interesting feedback. Let us know what you think.
ZimmPoll is sponsored by

.