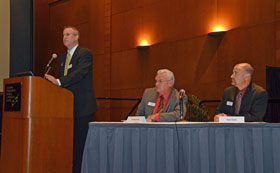 The annual membership meeting was the start of today's National Agricultural Aviation Association convention. The meeting started out with a comprehensive report from Andrew Moore, Executive Director. You can listen to some of the points he brought up here from the interview we did yesterday.
One of the things in his report that caught my ear was a member request from last year to engage the media more. You could tell that this is a very sensitive subject. I understand why NAAA would be hesitant to reach out to the media when you consider the antagonistic treatment the industry has received by the media in general. However, thinking you can just shut the door and hope nothing bad happens never works. I encourage NAAA to become active with social media. Encouraging your members to do this is fine but you need to set the example! How about joining in with efforts like USFRA or others in which you can contribute and extend the use of your funds?
I have really enjoyed my interaction with the staff of the NAAA. With this quality of professionals I think the organization is in good hands to trust them to invite more ag media to attend the convention and to reach out to non-farm media to help educate them and open the door to transparency. What do you think?
2012 NAAA Convention Photo Album