It was just last week that BASF finalized the deal that brought Becker Underwood into The Chemical Company's fold, just in time for them to hold a press briefing at the American Seed Trade Association CSS 2012 and Seed Expo to outline their plans for the future.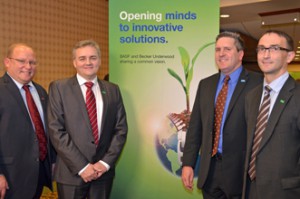 Left to right, we heard from Scott Kay, BASF Canada Business Director; Peter Innes, Becker Underwood Chairman and CEO; Paul Rea, BASF VP US Crop Protection; and Jurgen Huff, BASF Senior VP Functional Crop Care. They discussed what the acquisition means for the companies involved, for the future of crop protection, and for farmers and their ability to feed a growing population.
Rea says the intent of the acquisition is to offer farmers more innovation than ever before. "It's another great example of how BASF is committed to bringing the broadest and most successful range of products that growers need," he said. "Becker Underwood has a great reputation in the market place and real expertise in seed treatment and biological technologies."
Kay noted that the acquisition strengthens the BASF portfolio for North American growers. "We want to make it simpler for farmers to farm," said Kay. "You'll see that in the formulations that we'll bring and tools that we'll offer to help make their life easier."
Innes explained that Becker Underwood's main expertise is functional polymers and biologicals. "Over the last 2-3 years we have brought these two fundamental technology platforms together to create a combination of biological-based products with polymer technology to provide all in one solutions," said Innes, who has accepted a position with BASF as Global Senior Advisor to the Crop Protection division.
The future for Becker Underwood within BASF is in the newly created Functional Crop Care unit, which will integrate the companies' plant health, seed treatment and biological platforms. "BASF has had a couple of contacts with the biologicals arena, but with the acquisition we are now in a completely different league as far as product portfolio," said Huff.
The press conference is nearly an hour long and contains several references to slides, but it's a great backgrounder for this new chapter in the lives of two companies committed to helping increase agricultural productivity. I will be posting individual interviews with each participant but you can get the whole press conference here: BASF-Becker Underwood
ASTA-CSS Photo Album