It's all about the seed next week in Chicago at the CSS 2012 & Seed Expo. That's short for the 67th annual Corn & Sorghum Conference, 42nd annual Soybean Seed Research Conference and 36th Seed Expo which will be held December 4-7 at the Hyatt Regency.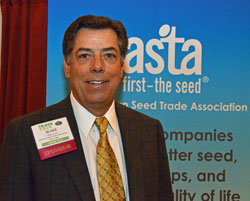 American Seed Trade Association (ASTA) Chairman Blake Curtis of New Mexico says this is a great event for anyone in the industry to learn about everything from new traits and equipment to issues impacting the industry, such as "The Accord" – as the new agreement regarding the transition of biotechnology traits is called. "As we end up with expiring rights associated with the patents of these traits, the question is how do we move forward?" Curtis said in an interview at the NAFB Trade Talk earlier this month.
The technical name for the first part of "the accord" is the Generic Event Marketability and Access Agreement (GEMAA) and it was opened up for signature on October 31 through the efforts of ASTA and the Biotechnology Industry Organization (BIO).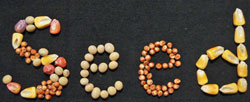 Under the GEMAA section of the Accord, signatories to the agreement that have developed proprietary regulatory information to support the authorizations for events globally would be required to provide notice of patent expiration three years before the last patent on the biotechnology event expires and provide access to the generic event at patent expiration. Additionally, the regulatory data owner must elect to either maintain regulatory responsibility on its own for the whole marketplace for at least four years after the last sale of the product, or share or transition this responsibility with other users. If no interest is expressed by other signatories, the owner could discontinue the event.
In addition to the GEMAA, the BIO-ASTA group continues to work on a Data Use and Compensation Agreement (DUCA) that complements the GEMAA and will have additional provisions related to structured access to regulatory data, and data compensation, to compliment the bilateral negotiated process in use today by companies to create novel combination products. The DUCA is targeted to be open for signature in the first quarter of 2013. "It's a great opportunity to make available these traits and this information to everyone in the seed industry," said Craig.
We will be attending the CSS and Seed Expo next week to learn more about this issue and to celebrate the signing of a new MOU between US and China seed associations.
Listen to Chuck's interview with Blake from NAFB: Interview with ASTA Chairman Blake Curtis
2012 NAFB Convention Photo Album