Cloud management of data for precision ag applications and more is just a natural part of the continuing technology revolution and it is now here thanks to AgIntegrated which is launching their Onsite service very soon.
To learn more about Onsite and AgIntegrated I spoke with Mike Santostefano, Director of Marketing and Business Development.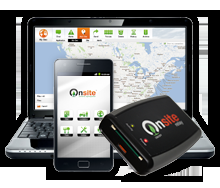 Mike says that during the last decade the AgIntegrated team has been developing "a variety of Precision Ag, logistical, and information management software services to the agricultural industry." We hear a lot about logistics and agribusiness has the same kinds of needs in this area as other industries. He says that with all the disconnected systems out there they noticed that the adoption of precision ag had halted. To address this the company has created Onsite, "a cloud-based, mobile and desktop app that assists with file management and communications to and from the field by socially connecting people." It is not meant to replace current precision software but to complement it. He says Onsite helps "precision consumers" build a network to connect different people to get information where and when it is needed. Onsite is color agnostic too, meaning it will integrate with any system out there regardless of manufacturer. Mike provides an example of how they've worked with Raven's Slingshot. Onsite requires a customer login account and utilizes a little device called a Relay. Onsite will let you organize and move files, create a network, chat, do position reporting and a lot more.
Listen to this week's ZimmCast here: Onsite fueled by AgIntegrated
Thanks to our ZimmCast sponsors, GROWMARK, locally owned, globally strong and Monsanto, Roundup Ready Plus, for their support.
The ZimmCast is the official weekly podcast of AgWired. Subscribe so you can listen when and where you want. Just go to our Subscribe page.