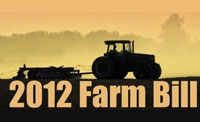 Sen. Pat Roberts (R-KS) calls it not the best possible bill, but "the best bill possible" – the Agriculture Reform, Food, and Jobs Act of 2012 passed the Senate this afternoon by a vote of 64 to 35.
Both Roberts and Senate Ag Committee Chair Debbie Stabenow (D-MI) stressed the bi-partisan cooperation involved in getting the bill crafted and passed. "We got a 16-5 vote out of committee, bipartisan, and we did it in four and a half hours. That set a record," said Roberts.
Before the vote was taken, Sen. Stabenow talked about how much the new bill would save the taxpayer. "We have the opportunity to vote on deficit reduction – $23 billion dollars in deficit reduction," she said.
Listen to comments from Stabenow and Roberts here: Comments from Senate Floor on Farm Bill