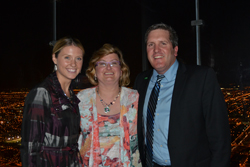 What better way to conclude the world-class BASF Ag Media Summit in Chicago than with a trip to the top of tallest building in the Western hemisphere to look out over the city.
Pictured here are Kristen Adams and Pat Morrow, part of the crack communications team with BASF Ag that put the event together, and Paul Rea, BASF Vice President U.S. Crop Protection, at the top of Willis (formerly Sears) Tower on the Skydeck overlooking the city at night. The tower Skydeck, if you have never been there as I had not, has a series of plexiglass boxes built out over the edge of the building so you feel like you are walking right out into the air at 1,353 feet! It was a great source of entertainment, especially since they had a photographer to take pictures while you were in the box looking down on you as if you were floating over the city. Fun, but not for those who suffer from high anxiety!
I had to leave early this morning to drive from Chicago to Des Moines for World Pork Expo and I have to say that the EconoLodge in Des Moines is no Trump Tower! But, since I can walk to the fairgrounds from here, I can't complain. It just doesn't take too long to get spoiled in The Donald's place!
Since I will be wrapped up in pork for the next day or so, the rest of the great stuff we learned in one short day at the BASF summit will have to wait until later, but since we started the event with a preview from Paul Rea, here is a wrap-up interview with him at the end of the day, just before we headed up to the observation deck.
Listen to my interview with Paul here. BASF's Paul Rea
I did update the photo album, so be sure to check it out here – Photos from BASF Ag Media Summit