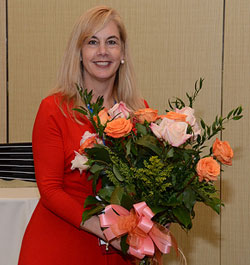 To get a wrap up of the 2012 Animal Agriculture Alliance Stakeholders Summit I spoke with President/CEO Kay Johnson Smith. Kay was given these beautiful flowers in recognition of her service during the organization's celebration of its 25th anniversary.
Kay says this year's Summit was a little different than normal since it focused more on how to effectively communicate with the consumer and better understand what the consumer wants and needs to know. It also provided a cross-species networking opportunity which is one of the benefits to this type of meeting. I asked Kay what stood out in her mind after listening to the presentations. One was a step by step method to communicate with the consumer which gave specific workable ways to accomplish this. Another was presentation on the PennAg Industries Association Today's Agriculture display at the 2012 PA Farm Show.
You can hear my interview with Kay here: Interview with Kay Johnson Smith
2012 Animal Agriculture Alliance Stakeholders Summit Photo Album
Thanks to the National Cattlemen's Beef Association and United Soybean Board for their sponsorship of our coverage of this year's Summit.