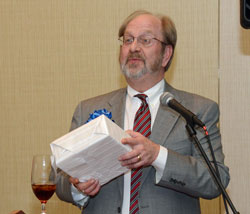 The Animal Agriculture Alliance is celebrating its 25th anniversary. Here's Steve Kopperud receiving a present since Steve was the founding President. I hope that's the right title. The AAA was given birth by the American Feed Industry Association and was originally known as the Animal Industry Foundation.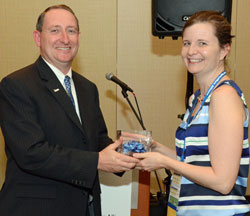 Speaking of the American Feed Industry Association being a founding member/organization/supporter of the AAA, here's Sarah Novak, Vice President, Membership & Public Relations at AFIA, receiving a 25 years of support award from AAA Chairman Chris Ashworth. During our Stakeholders Summit reception last night all the long time supporters of the AAA were recognized and photos are in the online photo album.
2012 Animal Agriculture Alliance Stakeholders Summit Photo Album
Thanks to the National Cattlemen's Beef Association and United Soybean Board for their sponsorship of our coverage of this year's Summit.