GROWMARK is building a dry fertilizer storage facility at Stuart, Iowa that will have the capacity to hold 15,000 tons and will complement the acquisition of CF terminals made by GROWMARK in 2011.
Construction will begin in spring 2012 and completion is expected in fall 2012. The facility will have rail receiving capability from the Iowa Interstate Rail System which is looking forward to this new venture. "Our connections with all Class One rail carriers at multiple locations, along with access to the Mississippi and Illinois Rivers, will help provide an enhanced alternative for transportation to this region," said Carrie Evans, Iowa Interstate Railroad vice president of sales and marketing.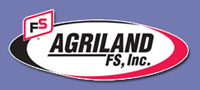 Local retailer AGRILAND FS, Inc. will conduct the day-to-day operational activities at the facility. "The location of the Stuart facility is a good fit for AGRILAND FS, and will save the cost of replacing a dry fertilizer building in Winterset," added John Knobloch, AGRILAND FS general manager.
AGRILAND FS, Inc. is an agricultural based cooperative, headquartered in Winterset, Iowa. It provides ag-related inputs including feed, seed, plant food, crop protection, fuel, lubricants, and grain marketing services to farmers and rural residents in 38 southern Iowa counties.