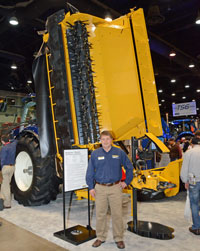 It kind of sounds like a Transformers character, MegaCutter. Actually, it's one of the new products from New Holland that was on the display floor at the National Farm Machinery Show. Pictured in front of the unit is Jordan Milewski, Marketing Specialist, Hay & Forage Brand Marketing for New Holland. I spoke to him about this new addition to the product portfolio.

New Holland's new MegaCutter mounted triple disc mower-conditioners offer big haymaking capacity by cutting a triple-wide swath that nearly doubles the cutting width of a traditional 16-foot self-propelled mower-conditioner or windrower.
The Megacutter is actually a three-machine cutting system: with the 11′ 5′ cutting width of the MegaCutter 512 front-mounted disc mower-conditioner combined with the MegaCutter 530 twin rear-mounted disc mower-conditioner, producers can take down 29′ 6′ with each pass. The V-tine flail conditioning system provides a range of conditioning intensities appropriate for a wide variety of crops, from delicate legume crops to the most robust grass hays.

Jordan says the the MegaCutter is the next big thing with the most acres per hour of mowing. The machine is ideally suited to the dairy producer who's putting up hay for silage.
Listen to my interview with Jordan: Interview with Jordan Milewski
2012 National Farm Machinery Show Photo Album
Coverage of the National Farm Machinery Show is sponsored by Fastline AgRacer FMC New Holland