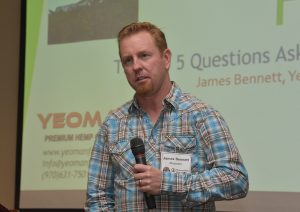 Potential hemp growers still have lots of questions about the product, how to raise it, and what the market looks like. James Bennett of Yeoman Farmers Brand presented on that topic at the 2020 Heart of America Agricultural Hemp Classic in Independence, Mo.
Bennett, who is a hemp grower himself, said the question he gets most often is what to do with the product after it is grown and harvested.
"Ideally, we need to educate society and the end consumer and that will create a larger market chain for us to get rid of the commodities we produce," said Bennett. "But currently there is a lot of product that goes into extraction for cannabinoids which are then put into formulation and retail products for health and wellness or quality of life."
Bennett said other common questions include how lucrative growing hemp can be, how much it costs to grow per acre, and how many acres a grower should plant. He described the hemp industry as the "Wild, Wild West" and stressed the importance of paying attention to the details when moving into this production opportunity.
Listen to Chuck's interview with James here: Interview with James Bennett, Yeoman Farmers Brand
Listen to the full presentation here: Presentation by James Bennett, Yeoman Farmers Brand