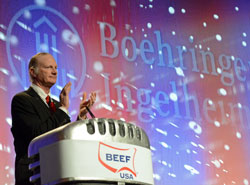 Just prior to the opening general session of the Cattle Industry Convention, the U.S. Labor Department announced that a proposal which would have barred children from many on-farm tasks will be revised to allow broader exemptions for parents who own or run agricultural operations.
"I have got a news flash for all of you," said National Cattlemen's Beef Association (NCBA) president Bill Donald as he took the stage and shared the news with some 6,000 cattle industry members from around the country who broke into applause. "That is big news. Your voices were heard – our voices were heard. This goes right to the very fiber of who we are in this country."
Donald noted that HR departments love to hire farm kids to fill positions "because they have a work ethic. They don't just sit on their butts and play video games. They do their chores before they catch their school bus and do them again when they get home." Bill's comments and the crowd's reaction will be the next segment of "Bill on Beef"!
The proposed rules would have prevent children younger than 16 from using most power-driven equipment on farms and prohibit anyone under 19 from working in grain bins, stockyards and feedlots.
Listen to Bill's comments during his speech here: NCBA president Bill Donald