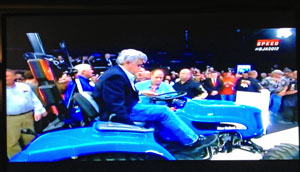 Tonight on Speed Channel, Jay Leno and his former New Holland Boomer Tractor took a last ride at the Barret-Jackson auction in Scottsdale, AZ. The tractor has been working in his garage for years and became known as Lil Tug since it was used to pull his vehicles around among other chores.
He drove the tractor onto the auction stage before getting behind the microphone.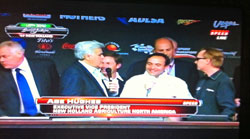 On hand representing New Holland was Executive Vice President, Abe Hughes. In an effort to get the bidding up Abe added a brand new New Holland Rustler to the winner of Lil Tug.
All the proceeds from the auction of the tractor are going to support the Fisher House Foundation which helps military families. Jay really helped work on the crowd and as you'll hear from the audio clip, he did a great job. BTW. The tractor was just recently signed by President George W. Bush who is a big supporter of the Fisher House.
So, Lil Tug finally sold for $535,000! Awesome price and all for a good cause. You can hear a portion of the sale here: Auctioning Jay Leno's Lil Tug
This sale kind of brings closure to a long standing New Holland project I had the opportunity to be involved in at the start when I met Jay in his garage back in 2007.