During this year that the United Nations has declared the "International Year of Cooperatives," GROWMARK has a number of projects going on to participate. To learn about them I spoke with Amy Bradford, Corporate Communications Manager.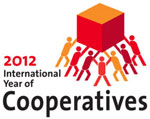 Amy says GROWMARK has several programs underway. One of them works with their local cooperatives called, "You're on the World Stage." It allows them to pick ways that they would like to "recognize their own contribution to the socioeconomic world through the cooperative enterprise structure." The basic level is doing local publicity in their community. A more unique program is helping local cooperatives select a "sister" cooperative in another part of the world to learn more about them and bring that information back into the community.
Learn more about what GROWMARK is doing during this historic year in my interview with Amy: Amy Bradford Interview
Dan Kelley, President of the GROWMARK Board of Directors, talks about the importance of cooperatives in the agriculture industry today and how the GROWMARK System ties into the cooperative form of business in this video created for this year's celebration.