It looks like there are a lot of Ron Paul supporters out there. In our latest ZimmPoll we asked the question, "Which Republican candidate for President is best for ag?" The big leader was Ron Paul at 41% followed by Newt Gingrich, 16%; Herman Cain, 13%; Rick Perry, 8%; Rick Perry, 8%; Mitt Romney, 7%; Jon Huntsman, 6%; Michele Bachmann, 5%; Gary Johnson, 3% and Rick Santorum, 2%. Does this surprise you?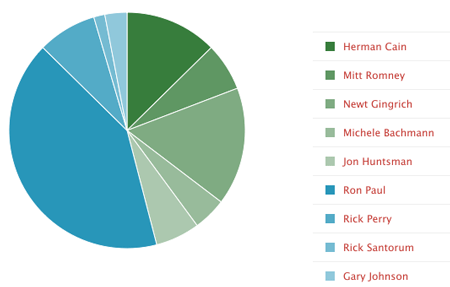 Our new ZimmPoll is now live. We're asking the question, "Will higher cost (13%) of Thanksgiving dinner affect your meal?" The increased cost of a traditional Thanksgiving meal comes from an announcement by the American Farm Bureau Federation last week.

AFBF's 26th annual informal price survey of classic items found on the Thanksgiving Day dinner table indicates the average cost of this year's feast for 10 is $49.20, a $5.73 price increase from last year's average of $43.47.

You can find the announcement here.
ZimmPoll is sponsored by Rhea+Kaiser, a full-service advertising/public relations agency.