I've already been getting questions about Apple new mobile operating system, iOS 5. That's what happens when you tweet that you've got it!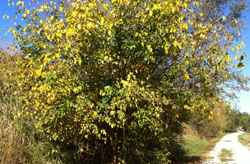 Like many people yesterday, I was frustrated getting the update on my iPhone 4. It took about 2 hours to get it downloaded and then I couldn't get the update installed due to Apple server overload. So I waited until this morning and then had no problem.
Here are a couple of initial thoughts for you:
1. I really like the changes in the camera functions. Now you can crop, enhance and Tweet, all built in. The photo here is one I took and did all three functions while out jogging on the Katy Trail (I stopped for a few seconds :)) a while ago. Click on the photo for a larger version. When the phone is asleep you can just double click the home button, click the camera icon that now appears and you're ready to shoot. No waking the phone up, finding and opening the camera app. The volume up control now lets you snap the shutter too which is a big help.
2. I was very confused about where my music went since there is no longer an iPod app. There is now one called Music instead. It only has your music. Videos have been moved to the Videos app. Makes sense and I breathed a sigh of relief. At first I thought it might have had something to do with the whole iCloud thing and music that you purchased through iTunes. The majority of music in on my computer came from CD's that I own.
Other than that about all I can add right now is that there have been a lot of app updates. Getting those and updating them via iTunes took quite a while this morning. I know this isn't a lot of information but those are just a few initial observations.
Tomorrow I am supposed to get my new iPhone 4S. After I get that set up I'll share more.