The green movement rhetoric seems to have ramped up lately. I guess a lot of people are watching too many end of the world movies? Whatever the reason is, it prompted our latest ZimmPoll question, "Do you think the world population will be 10 billion by 2050?" This prediction is being used by all kinds of organizations for all kinds of purposes. But how accurate is it? Here's what you think. 40% said Exactly or really close; 24% said How can anyone know; 19% said Much more and 17% said Much Less. A lot of people point to a United Nations report for this number. However, they readily admit that no one can know. Here's an excerpt from the 2004 report that says it pretty clearly. You can find the latest report with revisions here (pdf).

Projections recently issued by the United Nations suggest that world population by 2050 could reach 8.9 billion, but in alternative scenarios could be as high as 10.6 billion or as low as 7.4 billion. What will population trends be like beyond 2050? No one really knows. Any demographic projections, if they go 100, 200, or 300 years into the future, are little more than guesses. Societies change considerably over hundreds of years—as one can readily see if one looks back at where the world was in 1900, or 1800, or 1700. Demographic behaviour over such long time spans, like behaviour in many spheres of life, is largely unpredictable.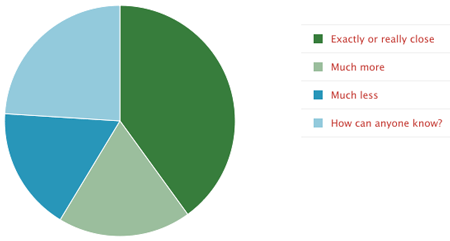 Our new ZimmPoll is now live. We're asking the question, "How do you feel about the corn supply/demand status?" It has been a tough weather year in some areas of the corn belt. After listening to an NPR show yesterday that featured as a guest Bob Dinneen, Renewable Fuels Association, it was obvious there is a lot of worry and misinformation about our corn supply in the public and on the part of activist environmental groups. What do you think? Take our poll and feel free to comment. Thank you.
<
ZimmPoll is sponsored by Rhea+Kaiser, a full-service advertising/public relations agency.