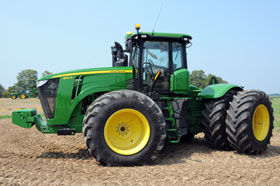 In the big John Deere product launch this week there were a lot of tractors to look at. I visited with Brad Tolbert and Jarrod McGinnis about what new features are being offered on the lineup of 6/7/8/9 R Series models. Pictured is a 9510 R tractor on the demo track.
According to Brad, John Deere has increased the cab size on the 6R Series by twenty percent and upped the hydraulics capacity and are offering new loaders to make it a very versatile tractor. He says the company will start building them in January.
Jarrod says the 7R Series is a totally new tractor. They started with a blank slate and built it according to what customers were asking for. For example, the new cab is basically what you only saw on an 8R Series tractors previously. The cabs on the 7/8/9 Series are now the same which makes things easier for operators who have to get in and out of different models.
You can listen to my interview with Brad and Jarrod as they review other features, including horsepower here: Overview of New John Deere Tractors