Precision Earth. Has a nice ring to it doesn't it. Would you guess it's an iPad app for soil sampling? Didn't think so. At the 2011 InfoAg Conference I learned about it when I saw their booth in the trade show.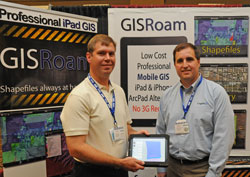 Pictured are Chris Tucker (left), Precision Earth and Aaron Hutchinson, Cogent3D, Inc. holding an iPad showing Precision Earth in action. I visited with Chris to learn more about how this application got started. Chris has been a diehard Microsoft guy who got his first iPhone last year. He's been in the precision ag industry for a long time. The iPhone "opened his eyes" that it could be used as a data collection device. He sees lots of farmers carrying them around. So he got started working with Aaron's company to develop what is now Precision Earth. He sees it evolving beyond just soil sampling to a full fledged crop scouting device. The app uses shapefiles which can be managed by iTunes or a local computer app they can provide.

The feedback that Chris received at the InfoAg Conference was far more positive than he even hoped for. That's a good sign. There are plans to utilize other mobile platforms in the future.
Precision Earth should be available in the iTunes Store soon. It will also work on an iPhone!
Learn more about it in this week's program: Precision Earth on an iPad
Thanks to our ZimmCast sponsor, GROWMARK, locally owned, globally strong, for their support.
The ZimmCast ends this week with some music from Music Alley. It's called "Eliptical White Tablet" by Elika. I hope you enjoy it and thank you for listening.
The ZimmCast is the official weekly podcast of AgWired. Subscribe so you can listen when and where you want. Just go to our Subscribe page.