Over 100,000 acres of prime southeast Missouri farmland is under water today after the U.S. Army Corps of Engineers blew up a levee on the Mississippi River Monday night to save the town of Cairo, Illinois from flooding. The action was taken after attempts to stop it were exhausted by Missouri officials. The picture is a screen shot of the video showing the explosions on the levee.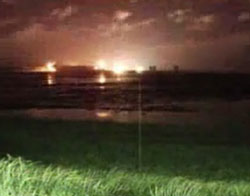 Now 25 farmers have joined in a class action lawsuit against the Corps contending that "the property rights of the farmers and landowners under the 5th Amendment to the Constitution were violated when a 15 foot high wall of water was released and flooded their property." The Corps itself estimates damage to property in the path of the Birds Point levee at more than $300 million, including about 100 homes and more than 100,000 acres of farmland for corn, wheat and soybeans.
Missouri Corn Growers Association CEO Gary Marshall says the action will "not only decimate this year's crop, but the sand and silt left behind will impede farmers for years to come. Our efforts will now focus on finding ways to identify federal and state support for growers in the spillway area."
Agriculture Secretary Tom Vilsack is pledging help. "Notwithstanding the fact that this was a man-made initiative to breach the levee, it was a result of Mother Nature, so the crop insurance protections will be available to those landowners, both this year and most likely next year," he told farm broadcasters in Washington DC this week.
*POST UPDATE – AUDIO*
Meghan Grebner (WMBD/WIRL Peoria) is in DC at NAFB's Washington Watch and sent the audio of Vilsack's comments about the levee. Listen to or download here: Secretary Vilsack Levee Comments