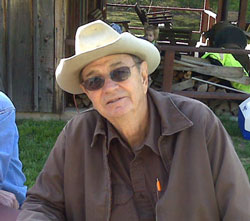 I just received word that my very good friend Derry Brownfield has passed away. I'm kind of in shock and will update this post when I get more information. I've known Derry almost all of my professional career in agricultural communications and am finding it hard to imagine a world without him. This is a photo from a couple years ago when I was enjoying an afternoon with him at his little bit of Heaven on Earth (the cabin).
Wow, this is tough to write and there's so much I can say about this man. He has been a self described rude, crude, mean-spirited, politically incorrect (many more words too) person and I loved him dearly. We did not ever see eye to eye on everything but we thought a lot a like on enough things to just plain enjoy each others company. Derry Brownfield quotes are legendary and I'm sure most are recorded and remembered by his fans and foes.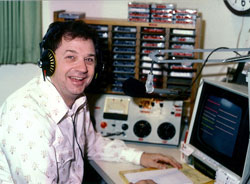 Derry was 79 years old and still in the studio and able to saddle and ride a horse. He taught me a lot about life. This fall would be the 20th year for me to deer hunt on his property. We spent many times checking cattle and fence on it too. This photo was provided by Learfield Communications and comes from the time he broadcast from his farm. I've got to stop for now. More to come when I learn it.
I thought I'd add the last interview I did with Derry in 2009. I think it gives you a good sense of the Derry Brownfield spirit: Interview with Derry
First Post Update: Here's the notice that Clyde Lear, Derry's original partner in Learfield Communications posted this morning.

Second Post Update: Thanks to Steve Mays, Learfield Communications, for putting together a slide show video with music that Derry loved:
Third Post Update: You can find a number of Derry photos on The Derry Brownfield Show Facebook page.
Fourth Post Update: Bob Priddy, News Director, Missourinet, has written an awesome recollection of Derry that is worth a read. And he also found a great video of Derry that I have to share with you.
Fifth Post Update:
The arrangements for Derry's funeral are… Tuesday visitation 4-8 and funeral on Wednesday 11:00 a.m. Bowlin Cantriel Funeral Services in California, MO.