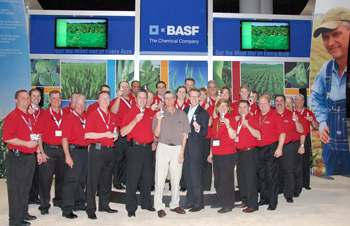 On behalf of a number of well-wishers in the agricultural world, BASF Crop Protection congratulated soybean yield world champion Kip Cullers during a special presentation at Commodity Classic in Tampa, Florida.
Kip, a corn and soybean grower from Missouri, is a rock star in the ag world. He set yet another new world soybean production record in 2010 – for the third time – with a yield of 160.6 bu/A in 2010, breaking the previous record he set in 2007 by six bu/A. Kip's soybean acres regularly yield more than 75 bu/A, which is 35 bu/A higher than the average Missouri operation.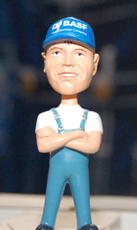 Kip is never speechless – but he was when BASF presented him with a special "Kip Cullers Bobblehead" to commemorate his new world record. "I didn't really know what to say," he said. "It's just great working with BASF. They're just such a great team to work with and such a joy. I really appreciate everything they do for all American farmers."
Kip says the mood of farmers at Commodity Classic was energizing. "More than anything, what it is is corn is $7 and soybean's $14 and I think farmers really want to yield more, they want to make money," Kip said.
Listen to or download an interview with Kip here about BASF, the bobblehead, his world record and optimism at Commodity Classic: Kip Cullers Interview
Watch the presentation by BASF's Paul Rea to Kip here from YouTube:


BASF Commodity Classic Photo Album
AgWired coverage of the 2011 Commodity Classic
is sponsored by:


and