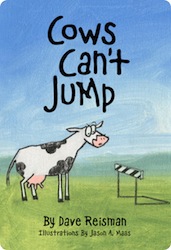 Calling all teachers and parents and those with nieces, nephews, cousins…OK, I'm basically calling everybody. You have to read this book, "Cows Can't Jump," by Dave Reisman. The book is about embracing our differences and focusing not on what we can't do well, but on what we do best. In a world where a child's self-esteem is attacked and challenged each day, this book helps gives children the tools they need to feel good about themselves and others and treat them with kindness, love and respect.
This lesson is learned through the eyes of various animals including a cow who can't jump but who can swim who just so happens to be friends with a gorilla who can't swim but can swing from a tree. You get the picture. While this book has fabulous illustrations by Jason A. Maas, and is geared for young children, you could make a case that this is a good book for adults to.
I think we spend so much time being harshly competitive in the workplace and not considering others' feelings when we try to "get ahead" that you see self esteem issues among adults as well. So between the "Purple Cow" and Who Moved My Cheese? should now be a place for "Cows Can't Jump."
This is a beautifully illustrated and captivating tale that will make you smile with each reading and I give it high praise.