Support from corn grower organizations to use the term "corn sugar" instead of high fructose corn syrup is growing.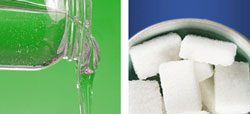 The National Corn Growers Association (NCGA) recently sent a letter to the Food and Drug Administration supporting use of the term 'corn sugar,' and other state organizations such as the Texas Corn Growers have also voiced their support.
"We are calling upon the FDA to eliminate the confusion of the safety of high fructose corn syrup," NCGA President Bart Schott said. "Permitting use of the term 'corn sugar' on labels will allow manufactures to more clearly describe high fructose corn syrup as a natural ingredient, nutritionally equivalent to sugar."
The Corn Refiners Association (CRA) filed a petition with the FDA in September requesting approval for food and beverage manufacturers to have the option of using the new term as an alternative ingredient on product labels.
"Consumers need to know what is in their foods and where their foods come from and we want to be clear with them," said CRA president Audrae Erickson. "The term 'corn sugar' succinctly and accurately describes what this natural ingredient is and where it comes from – corn."
No word on when FDA may respond to the petition.