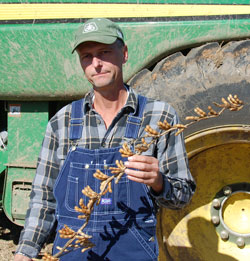 Soybean superstar Kip Cullers is going to officially announce his 2010 soybean yield results today at a press conference near his farm in Purdy, Missouri.
Kip set the world soybean yield record in 2006 with 139 bushels per acre, then beat that the following year with a yield of 154.57 bushels per acre. When another grower achieved a yield of more than 100 bushels per acre in 2008, the 100 Bushel Club was formed and Kip was inducted.
Today's news conference will include Missouri Governor Jay Nixon and representatives of the Missouri Soybean Association, who are understandably proud of this native son. Also, the good folks from BASF will be there – and me, too! Can't wait to see my friend Kip again – and his lovely wife Michelle and their little brood. I took this photo of Kip during his soybean harvest last year.