Mississippi Solar is getting excited for the National Solar Tour, an event that showcases solar energy for ag applications, home buyers, businesses, and everyone in between. The event is overseen by the American Solar Energy Society (ASES), and this year more than 650 tours are already scheduled for early October. This is the second year that Mississippi Solar will participate in the natural grassroots event.
The "Down on the Farm Solar Tour" takes place October 2, 2010 from 9 am to 4 pm at 211 Popes Road, Carthage, Mississippi, 39051. Guided tours, which run every two hours beginning at 9 am, will highlight three distinctly different grid-tie installations. The first is a 2.4 kW solar carport ready for Tennessee-made electric vehicles rolling off assembly lines next year. Also featured is a ground-mount system with battery back-up. However, homes are not the only stop on the tour. Participants will also see the 8.4 kW, solar PV solution that sits atop a chicken house located at Spencer Pope Farms.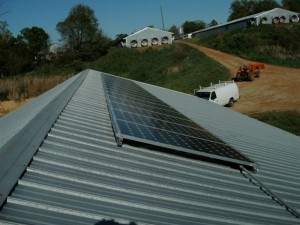 "Poultry farming is an energy-intensive business," said Mississippi Solar co-founder Will Hegman. "Enormous tunnel fans are required to ventilate chicken houses. Lighting adds to the cost. There are close to 8,000 poultry farms in the State of Mississippi. If we were able to solarize all those businesses, we could offset around ten percent of the entire state's energy needs," he said.
Now is a great time for the ag community to adopt solar. There are currently federal tax credits of up to 30 percent available for new solar installations, not to mention the savings on electric bills.
One of the biggest expenses for poultry farmers are their electric bills, especially in areas with extreme temperatures. Even for those who don't have chickens, solar can be installed on farm buildings including homes and barns and can also be used in irrigation applications.
According to Mississippi Solar, Spencer Pope Farms has been very satisfied with their results and are looking to quadruple the solar capacity powering their chicken houses. The energy savings coupled with the federal tax credits available for solar has been a significant improvement to their bottom line.
In addition to featuring Spencer Pope Farms, people will also be able to visit homes, and businesses that have successfully completed solar projects.
Click here to learn more about the "Down on the Farm Solar Tour."