The crop report was released last week and the USDA is predicting a record harvest – even after accounting for excessive rain in areas of the Midwest. In Iowa alone, 40 percent of the corn crop goes to ethanol but nationally only 20 percent of the total corn crop goes to ethanol. Also, the livestock industry is the largest consumer of Iowa corn.
I was able to spend some time with the Iowa Corn Growers Association's (ICGA) new President Dean Taylor last Saturday before the Iowa versus Iowa State football game. My first question for Dean, was in fact, what are we going to do with all this corn? We're going to produce feed, food, fiber and fuel, he said.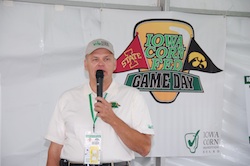 "The fuel, the feed, the fiber, the ethanol….all these things are very important. Especially now that we grow so much corn, we have to remember that what we put into ethanol was never even in the market for feed in the past because we're just growing that much more corn," said Taylor.
ICGA along with the Corn Promotion Board joined together to sponsor the Cy-Hawk series – the men's football, basketball and wrestling matches. I asked Taylor why this sponsorship was so important. He said it's a great opportunity to showcase all of their products and what they do in Iowa. "It's contributing to our fuel situation in this country because it's homegrown instead of imported and that adds to our bottom line. It adds a little bit to our fuel security and the way to look at it, every little bit helps," said Taylor.
So, what is a product that uses corn that many don't realize? Bioplastics. When corn is added to bioplastics in replacement of oil, then the plastics become biodegradable. But bioplastics are just one product among thousands that use corn. To learn about the other products, visit www.iacornfed.com.
Well, Iowa won the football game in a landslide but that didn't dampen anyone's spirits. In conclusion, Taylor said, "Every day is a corn day and every day is a winning day for Iowa corn farmers."
You can see pictures from game day in the Iowa Corn Fed Game Day photo album.
You can listen to my interview with Dean Taylor here. Corn, Corn Everywhere