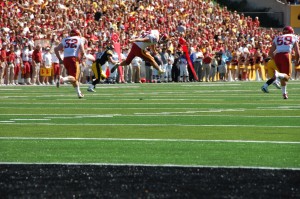 I arrived in Iowa City last night to some wet and dreary conditions. But new Iowa Corn Growers President, Dean Taylor, promised that not only are Iowa corn farmers experts at growing our food, they are also experts at moving out the rain and bringing in blue skies when needed. Well, I'll be, but Taylor was exactly right! It is a beautiful day in Iowa City for the Iowa State versus Iowa football game. The Iowa Corn Growers are a sponsor of the Cy-Hawk series and have been engaging in a fun promotion called Iowa Corn Fed Game Day, where fans are being educated on the very important role Iowa corn farmers play.
I've had a blast hanging out with over 900 of Iowa's corn farmers and maybe what has been most fun, was being on the field for kickoff. Iowa won the coin toss and so Iowa State kicked off the game. So far, Iowa has dominated – the score is 28 to 0 after the first half.
Prior to the game, I spent time at the Krause Family Plaza and took pictures of the thousands of fans who signed up to for a chance to win $5,000 in food or $2,500 in free fuel. They also played a ginormous game of corn hole (see Iowa Corn Fed Game Day photo album."), as well as a grocery store game. Players had the chance to win t-shirts, koozies and key chains and by the time the game started, thousands of people were sporting their new Iowa Corn Fed Game Day t-shirts.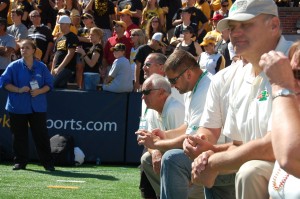 During the pre-game festivities, the Iowa Corn executive board members were invited on to the field as a thank you for their support of Iowa and Iowa State athletics. They were also thanked for all they do to feed and fuel our country. Earlier in the day, Dick Gallager, Chairman of the Iowa Corn Promotion Board, noted both Iowa State's and Iowa's tie to agriculture. Iowa State has one of the top ag programs in the country, while Iowa's helmets say anf, which stands for America needs farmers.
Well, let's hope the second half goes better for ISU….
You can see pictures from game day in the Iowa Corn Fed Game Day photo album.