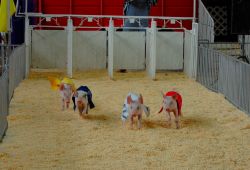 Apparently I'm the last to know about the sport of pig racing. While I was at the World Pork Expo (WPX) last week, I watched a few of these cute little pigs race to the finish line. The motivation to race? A Fig Newton. I must say, these are my kinds of pigs! The pigs are trained at the Hedricks Exotic Animal Farm in Nickerson, Kansas and travel all over the country to entertain crowds.
The pig races at WPX are a fan favorite and the stands were full for most of the races. I watched three heats the first being an all female heat called the "Powder Puff Derby." Representing the red team was Britney Squeals, the white team featured Lindsey Loham, the blue team Hamma Montana, and on the yellow team Miss Piggy. And the winner was….you'll just have to watch the video to find out who won this heat. And if you get a chance, don't miss the racing pigs coming to a track near you.
You can check out all the World Pork Expo 2010 Photo Album.
AgWired coverage of the World Pork Expo 2010 is sponsored by:


and

.