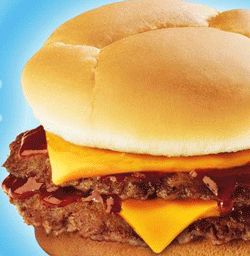 This is how you celebrate National Hamburger Month. How about a Culvers BBQ Cheddar Butterburger? I wonder when the nutrition police will decide it's illegal? Think Demolition Man.

Culver's introduces a new ButterBurger to help celebrate National Hamburger Month in May. Culver's is now serving the BBQ Cheddar ButterBurger with fresh, never-frozen 100 percent U.S. beef, savory BBQ sauce, Wisconsin Cheddar cheese and cooked-to-order with a choice of your favorite condiments. In fact, the variety of topping choices at Culver's should keep a ButterBurger enthusiast busy for the entire month, given there are 5,040 unique combinations.
After enjoying the ButterBurger, guests are encouraged to visit Culver's on Facebook at www.culvers.com/facebook to share thoughts about the new ButterBurger and take the Burger versus Brisket poll.
"The ButterBurger is Culver's signature sandwich and the cornerstone of our menu," says Jim Doak, Culver's Director of Research and Menu Development, and Executive Chef. "What a better way to help our guests celebrate National Hamburger Month than with a new ButterBurger."