I recently spoke with Sara Truesdale-Mooney, the Show Director for the Association of Equipment Manufacturers (AEM). This past January, AEM held its first agricultural trade show, the Ag Connect Expo. Sara told me that it was a great first show. "We are very pleased with the results and it really exceeded all of our expectations for a first-time event."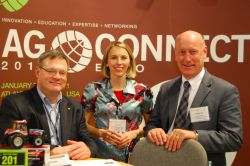 The next Ag Connect Expo will be held in Atlanta, Georgia, January 7-10, 2011 at the Georgia World Congress Center in downtown Atlanta. So far, the educational program is taking shape and Sara said it will be bigger, better and have more offerings. AEM is also planning to expand the Innovations Center as well as adding days and sessions on the show floor as well as more seating. Sara noted that all the sessions were full this past January.
While next year's show is still a work in progress, Sara said that they are taking into account all the feedback from the attendee surveys and focus groups to ensure that the next show will be even better. Next year there will be a broader scope of exhibits, more floor space and they will bring back their signature elements.
On a closing note, Sara mentioned that Ag Connect Expo has been selected to participate U.S. Department of Commerce's Buyer Program. Approximately 35 shows are selected for the program each year, and this will be the second year Ag Connect has been selected.
Registration opens in August but you can pre-register now by going www.agconnectexpo.com.
You can learn more about the Summit by listening to my interview with Sara.
2010 National Agri-Marketing Conference Photo Album
AgWired coverage of the 2010 National Agri-Marketing Conference
is sponsored by:

. They know.