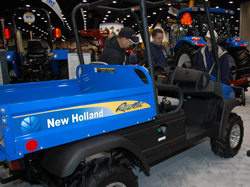 New Holland debuted the new Rustler utility vehicle at the 2009 Farm Progress Show, but the 2010 National Farm Machinery Show was really this baby's "coming out" party, since commercial production of the Rustler just started in January and they are really just hitting dealer lots this quarter. I talked with Jared Godfrey of New Holland at the NFMS about the Rustler and what makes it different from other UVs on the market.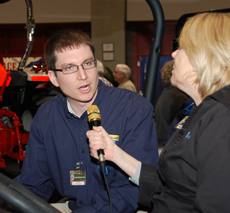 "What really makes it different is that our models are really more of a utility workhorse versus other brands that are more of a sporting kind of use, where ours are more on the farm, kind of weekend warriors," said Jared.
The Rustler also has so many options it can be customized for just about any taste. "We have three models, the smallest one is the 115 which is a gas, 2 wheel drive option. Then we bump up to the 120 diesel option," Jared said. The biggest model is the 23-hp 125 gas option. There are 2 passenger or 4 passenger options, cabs, aluminum wheels, all terrain tires and more.
Jared says they believe New Holland's strong brand identity will attract farmers and rancher who buy blue to the Rustler.
Listen to my interview about the Rustler from NFMS here: