48% of large acre corn/soybean growers send 5 or more text messages a day! That's just one of the findings from a survey conducted by Nicholson Kovac. In this week's program you can hear Sheree Johnson, Nicholson Kovac Senior VP and Director of Media talk about their findings.
Just when I was about to write a post inspired by Jeff Jarvis, on media measurement I received the announcement about the agency survey and it's a lot more relevant to you agrimarketers out there. Nicholson Kovac took the initiative to survey growers to find out information that is needed by agencies and companies who are having to make decisions on media choices to reach their customers. Well they sure found out that farmers are online and involved socially. Also amazing is how much they depend on and use their mobile phones.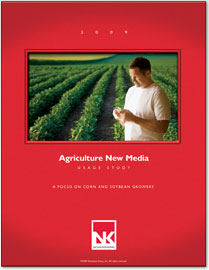 Here's some more information on what they found.

Sixty-two percent of large acreage, U.S. corn and soybean growers have sent or received text messages during the past year, according to the newly released Agriculture New Media Usage Study (corn and soybean segment focus), conducted by Nicholson Kovac, Inc. (www.nicholsonkovac.com) The Agriculture New Media Usage study is the first-of-its-kind in the agribusiness industry. It provides comprehensive insight on the use of social media and new media among large acreage corn and soybean growers – including Internet usage, social networking and mobile phone activities − for business and social purposes.
"We know that crop producers, especially larger operators, are fairly tech savvy, but nothing exists that we are aware of that validates and confirms their use of new media and social media tools," said Sheree Johnson, senior vice president, director of media services, Nicholson Kovac. "This new media research provides a number of eye-opening statistics on how corn and soybean growers use their phones and computers, and how they are engaged in social networking."
In addition to the percentage of growers sending or receiving text messages, the study reveals the high degree of frequency of texting, as well as other mobile phone activities such as taking photos, e-mailing, downloading ring tones, accessing GPS and more. Forty-eight percent of those texting send five or more texts per day, and 63 percent of respondents indicated they have taken pictures with their mobile phones.
The 35-page study also explores in detail the Internet usage of these growers, including how they are accessing their Internet and for what topics they search:
Forty-seven percent spend five or more hours per week online, and 23 percent spend 10 or more hours online
Besides utilizing e-mail, accessing weather and market reports are the highest ranked in terms of Internet use for their business/farm
In addition, 85 percent of respondents indicated that they visit Web sites related to their farm operation, and 76 percent check manufacturers' Web sites
The study also explored the presence of crop producers on Facebook™, Twitter™ and other social networking sites. It also details growers' usage of blogs, forums and/or message boards. Search engine usage and preference were also explored.
"While there appears to be some confusion and lack of familiarity about social networking, blogging, etc., when social networking brands (ie., such as Facebook or Twitter) were mentioned, many respondents confirmed they are actively using these sites," said Johnson. "The early adopters and growers who are influencers in their communities are already engaged in exploring new media platforms."

You can purchase a full copy of the study on their website. Read the full release here.
So, listen to my conversation with Sheree as she reviews the results of the survey and we discuss what they mean.
The ZimmCast is the official weekly podcast of AgWired. Subscribe so you can listen when and where you want. Just go to our Subscribe page.