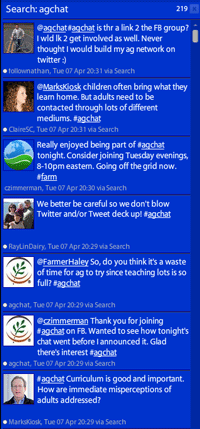 I participated in a very cool use of Twitter tonight. Let's call it #agchat. That's the hashtag we used for our tweets to post into the conversation and to reply to each other. As of this post we have 248 tweets posted. Post Update: by ending time we have 331 tweets.
The idea is to do this on Tuesday evenings from 8-10pm eastern. I believe credit for the idea goes to Michele Payn-Knoper, Cause Matters.
She's already got a Facebook group set up for participants too. You can join by doing a FB search for #agchat.
Questions posed during the online discussion included ones like, "Just to get us warmed up, what do you feel are the most pressing issues in #agriculture right now?" and "So, who does agriculture need to form relationships with to better tell our story? And, how have you done that?"
Responses were flittering (fast twittering). You can still see the posts on Twitter if you search with the hashtag – #agchat. Just go to search.twitter.com.
Maybe we'll see you there next week?