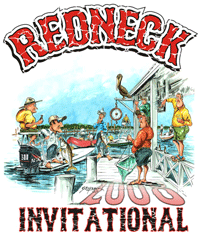 If you're a redneck that likes to fish then you need to get in on the upcoming Redneck Invitational.

This one day invitational tournament is sponsored by and for anglers in the agricultural industry. We are limiting space to the first 40 boats that meet the criteria for entry on a first come basis. Teams may fish up to 4 anglers per boat.
*Entry is $225.00 per angler before October 31st, 2008. Late entry is $250.00 per angler.* All anglers will receive a custom embroidered invitational fishing shirt, hat with the tournament logo and t-shirt with original tournament artwork. Friday night's Captain Meeting includes two hours of open bar, Cabbage Key New York Strip Steak Dinner, Art Auction and prize giveaway. Saturday night's Awards Banquet includes two hours of open bar, Cabbage Key Buffet Dinner, Trophy Presentation and more prizes to give away.