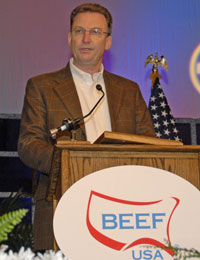 I just learned that Terry Stokes has announced his resignation as CEO of the National Cattlemen's Beef Association. Here's a picture of him from the Cattle Industry Convention earlier this year. I'm sure a lot of people are going to be missing him.

Stokes said representing cattlemen and championing their cause has been the greatest honor and the most fulfilling job of his career, but he explained it also is all-consuming. He said he is looking forward to spending time with his family and exploring new opportunities.
"Terry shared his news with the NCBA officers this morning. I speak for all of them when I say we want Terry to stay. His leadership and commitment to the beef industry are incomparable. Yet, personally, we respect and honor Terry's decision to make this life change. We only hope he continues to contribute to the industry; his leadership is that valuable," said Andy Groseta, cattle producer, Cottonwood, Ariz., and president, NCBA.
Stokes joined NCBA 12 years ago, in 1996, as chief financial officer. He was appointed CEO in 2002. During his tenure as CEO, NCBA grew revenues 41 percent. Membership grew more than 17 percent in the past three years.
"So much of Terry's work has been behind the scenes. He is not a 'look-at-me' kind of leader. So I'm not sure how many people realize what a difference he has made to NCBA and the beef industry. That said, I respect his personal decision to find the next mountain to climb," said Gary Voogt, cattle producer, Marne, Michigan, and president-elect, NCBA. "NCBA deals with every issue the cattle industry faces, and Terry can speak to every single issue. He is amazingly adept at knowing what's going on and what needs to be done," said Voogt.

NCBA officers have begun work on a search plan for the next CEO of NCBA.