The new trade agreement between the United States, Canada and Mexico (USMCA) has generated a lot of discussion at the World Dairy Expo in Madison, Wisconsin this week since it holds lots of promise for the industry to increased exports.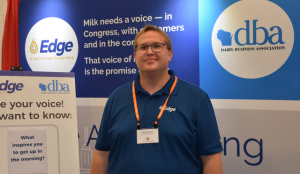 John Holevoet, director of government affairs for Edge Dairy Cooperative and the Dairy Business Association, says the main change is the abandonment of Canada's Class 7 pricing system, which had particularly affected U.S. producers who were shipping ultrafiltered milk products into the Canadian market. While the deal has not yet been signed by all three nations, it appears it will provide long-term gain regarding overall global demand for U.S. dairy products.
"We're overall very pleased to see that it actually got done. There were moments of doubt. So, relief is one sentiment, and optimism is another," said Holevoet.
While the timing of the agreement is still unclear, Holevoet also expects the policy to support futures market levels after a long cycle of low prices for dairy farmers.
Learn more in this interview – Interview with John Holevoet, Edge Dairy Cooperative