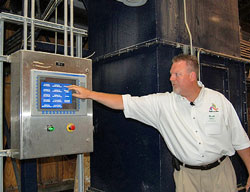 The statistics for the new Richard W. Stegmann St. Louis Urea Center are pretty amazing.
Lange-Stegmann Director of Operations Rich Diffley says the facility has a capacity for 63,000 tons in 15 bins, ranging from 800 to 20,000 tons, which can be turned four times a month. "We can unload barges in approximately five hours, we can load truckloads in approximately six minutes and we can load a full rail car in approximately 17 minutes," Rich says. "It allows us the ability to load a full unit train up to 80 rail cars within a 24 hour period." That's about a million tons a year, if you do the math.
Diffley explained that the fully automated system makes it the most efficient way to move large volumes of urea quickly and easily.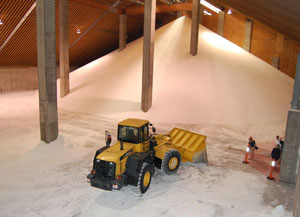 Diffley showed the media through the storage facility prior to the AGROTAIN International grand opening on Tuesday and impressed us with the mountains of urea in the bins. This photo shows the largest bin – at 20,000 tons – from above. It was maybe a third full and just looked like a pile of freshly plowed snow. Check out the photo album for more shots of the nation's largest urea import terminal.
Listen to an interview with Rich Diffley here, conducted by myself and Tom Steever with Brownfield Network: agro-diffley.mp3