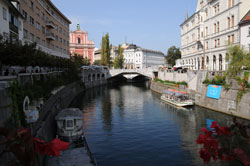 I think this is about the most time I've ever had in between posts from an event, including in Japan last year. Cindy and I are in Portoroz, Slovenia doing a little bit of catch up work in our hotel room. We were pretty much in and out of buses all day yesterday traveling down here from Graz, Austria. No time for anything and no internet access.
I was kind of astounded to hear one of the IFAJ Congress attendees say last night that they didn't even see a reason for us to have internet access! Obviously they haven't entered the new media world yet. But they're coming along. I spoke with a guy on my bus who works for a newspaper in Holland. He says they're just about to "go online." He's looking forward to it too, not dreading it.
This picture is from our brief stop in Ljubljana, Slovenia on the way yesterday. I with I had some farm pictures to show you but we didn't visit any farms on our tour although we thought we were going to. The photo album has just been updated through our walk this morning here on the coast of the Gulf of Venice.
IFAJ Congress 2008 Photo Album