It was a nice hot day in Missouri yesterday and I didn't do any blogging. I did get some home duties caught up though like weeding and taking care of some plants around the house. I also got an extra bird feeder and a bird bath. They need a place to cool off too. I also did collect some blog content though.
Here's Cindy and Laura McNamara at the MO State Fair. Cindy and I went to Sedalia to see Alice Cooper and Blue Oyster Cult. Laura is blogging the state fair and you should check out her work at The Fair Fan Blog. She's becoming a very accomplished professional blogger and we're really glad to have her writing for AgWired.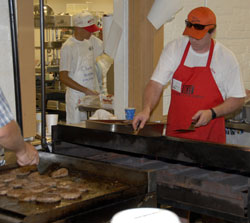 I've got to mention the Beef House since that's where we ate before the concert. This place was packed as usual. I went for the full meal deal which is a steak with salad and baked potato.
The Beef House sits right next to the Beef Showcase which is sponsored by the Missouri Beef Industry Council, our first client when we started ZimmComm several years ago now. Fortunately they have air conditioning in these buildings or this guy wouldn't have looked so comfortable working over a hot grill.
If you're interested in what Alice Cooper looks like today then use this link to see one of my concert pictures.