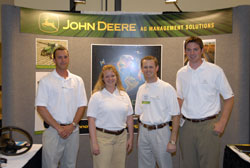 I know I haven't posted much from the InfoAg Conference but don't think I've been slacking off. I think I've conducted 15 audio interviews and one video clip as well as about 79 photos.
There isn't a convenient room for media to work in here so that's made it kind of difficult to be on the floor and in the seminar rooms and get time to edit and post. One of the things I would highly recommend to IPNI/FAR would be a media room. I know I've seen at least a half dozen farm reporters here who like me were searching for a place to work with a power outlet and internet access.
I'll be heading back to ZimmComm New Media world headquarters today and you'll find these pictures and interviews posted over the next week or so. Some will show up here on AgWired. The majority will be posted onto Precision Pays though. That's why I spent some quality time with these folks in the John Deere Ag Management Solutions booth as well as their Agri Services booth. I've also got content to post onto Domestic Fuel and World Dairy Diary. So I think this has been a productive trip.
2007 InfoAg Conference Photo Album