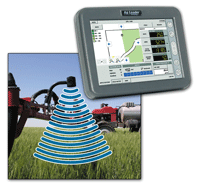 When you've got a precision agriculture conference going on that has a trade show you know the announcements will be coming out. Here's the first one I received today.

This morning, Ag Leader Technology, Inc., a leading manufacturer of precision farming equipment, and NORAC, Inc., a pioneer in ultrasonic boom height control for sprayers, announced the introduction of the InSight™ display interface to the UC5™ Spray Height Controller. This new technology will allow operators to control boom height and use the InSight functionality—all in one display.
The new UC5 Spray Height Controller will be interfaced by the InSight display in the tractor or sprayer cab. The InSight display will support set-up, calibration and run time operation of the UC5. Using a CAN-system design there is only a single cable connection needed between Ag Leader and NORAC products.
With the InSight display interface to the UC5 Spray Height Controller users will be able to monitor and control boom height functions as well as view an on-screen coverage map and data log. When using the UC5 interface with the InSight DirectCommand™ system, operators will be able to use features such as AutoSwath™, Smart Report™ and rate control along with spray height control to maximize productivity and reduce operator fatigue. The InSight DirectCommand system also supports variable rate and multiple product application control.