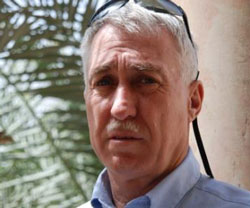 Here's the latest report from Paul McKellips, Global Outreach Officer, US Embassy Baghdad, The Green Room – Public Affairs GO Team. He's still finding the news you won't find anywhere else. This time he interviews a Florida boy who's doing what he can to help out.
You can listen to Paul's report here: logan-barbee.mp3

Logan Barbee is a Senior Agricultural Advisor working for the Provincial Reconstruction Team (PRT) in the Babil Province (ancient Babylon) region of Iraq. He retired from the University of Florida's Extension system in order to begin his second tour in Iraq. Logan is an agricultural purist and he's very passionate about making a difference in Iraq. Check out the USDA website for more information on Logan Barbee.