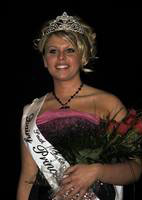 I just love seeing these stories. With all the junk that's on tv with stars who have no moral compass or sense of personal responsibility it's good to see young people like this out there who I think are the real stars. There's a new dairy princess in South Dakota. She's Katie Norling of Beresford and she's the 53rd South Dakota Dairy Princess.

Kathryn (Katie) Norling, 18, of Beresford was crowned the 53rd South Dakota Dairy Princess in a ceremony Wednesday night (March 21, 2007) during the Central Plains Dairy Expo in Sioux Falls. Norling was chosen from a field of seven candidates for the title, which carries with it a $1,000 scholarship from the dairy princess program sponsor, Midwest Dairy Association – South Dakota Division.
Norling is the daughter of Jeff and Jane Norling and is a student at South Dakota State University studying dairy manufacturing and nutrition. During the next year, Norling will represent the state's dairy farmers at events and appearances to help explain dairy farmers' commitment to good stewardship, animal care and wholesome products.
Norling's first duty as princess is to assist with the Dairy Kids Zone on Thursday (March 22, 2007), where 115 fifth grade students will learn more about dairy products and the dairy industry during a visit to Central Plains Dairy Expo in Sioux Falls.