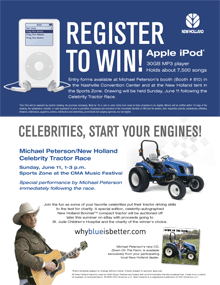 You may remember that New Holland gave away a video iPod at Commodity Classic as part of their ongoing promotion with country music star, Michael Peterson. The iPod was pre-loaded with all my content from Classic (audio interviews, pictures and video of Michael's performance). To say the contest was a hit would be to put it mildly.
With that successful first campaign under our belt, New Holland and I are doing it again at the Country Music Association Music Festival which starts next week. Although we're not running an online contest, CMA Festival attendees can register to win a video iPod while they are there. The winner will receive an iPod that'll come pre-loaded with all my content from blogging the event. It will include pics and audio from the final day Celebrity Boomer Tractor Race which now has 85 celebrities on the list to compete.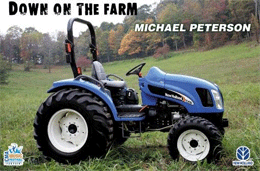 As a little bit of extra creativity New Holland has made a life size replica of the Michael Peterson CD cover that's missing Michael. If you buy a CD at their booth you get to stand in front of it and have your picture taken, which will be given to you immediately so you can have a special memento to take away with you.
This is very cool. In fact the whole promotion has continued to generate momentum since Michael plays personal performances at dealerships and private events for New Holland all over the country. Although the CD is still only available at New Holland dealers, a new version with some extra songs will be hitting retail outlets in the near future. I think New Holland and Michael Peterson already have a bit hit on their hands.