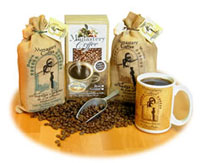 I don't know about you but on a day like today (frigid) a good cup of coffee is necessary. I'm only writing this because I know you're looking for good holiday gifts and maybe you're a coffee lover like me.
This is the best I've found yet and I've even had kona beans flown in from Hawaii. I recommend the whole beans and grind your own right before brewing. The best part is the price. For coffee of this quality you would expect to pay twice as much.
This is a fine arabica grown by Trappist Monks in the Andes Mountains of Venezuela. You can read about it directly from their website or you can order from The Monastery Store at their order's location in Conyers, Ga.