I think it's probably the first time the term's been introduced into a USDA press conference and AgriMarketing Pros is glad to have had the opportunity to do it!
Farm podcasting. It's a new thing and it's the future of farm broadcasting. Well, actually the future's here now!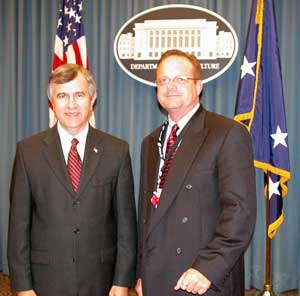 In today's NAFB Washington Watch program I was able to ask a question during the press conference with Sec. of Ag Johanns. Since I'm also doing work here this week for the National Rural Electric Cooperatives Association I asked about the status of the Office of Management & Budget's decision to re-define "rural community," which will have an impact on whether REC's are eligible for loans from the Rural Utilities Service.
You can listen to the Q & A here: Farm Podcasting Q & A
We had to introduce ourselves and I did by including the mention that we're farm podcasting! Later I realized this might be the first time the term farm podcasting has been used in a USDA press conference.
If not, let me know.
We're doing a limited amount of farm podcasting at the moment here at AgriMarketing Pros. You can subscribe to our weekly ZimmCast for example. We also make the weekly Missouri Beef Industry Council Report and Missouri Corn Growers Association CornTalk program available here as well.
I am looking forward to working with broadcasters, agencies, companies and organizations to develop and produce new farm podcasts.
Farmers are no different than the rest of us when it comes to the computer. If you still doubt it then you might ask the Farm Service Agency why they've moved to internet only applications for assistance as was mentioned early today in the USDA session.