Today I had a great meeting at Meyocks Group in Des Moines. We talked about public relations, Talking News Releases and blogging. I sensed a high level of interest in blogging and hope I was able to offer some good basic information through demonstration and discussion. If you look back through my previous posts and at all the links on our blog you'll find many resources you can go to about various aspects of blogging.
I tried to anticipate questions in my presentation but some of the ones that were asked included, "Do we measure how many reporters use the releases we send out?" and "What's different about your service and NAFB's?" I have written about both these questions and would encourage you to look back in the archives of the category, Talking News Release to visit them.
I could see the wheels turning in the minds of the people in the room. "Are blogging, rss, podcasting, targeting broadcast news reporters good ideas and how do I integrate them into our client's plans?"
I want to thank Jill Green for inviting me in today.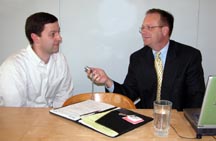 I interviewed Doug Jeske for an upcoming ZimmCast. Doug's a Senior Vice President, Account Services for Meyocks Group.